Yachts
Before You Spend $2 Billion on Your Own Submarine, Read This
Matt Gross
---
For those bored with multimillion-dollar megayachts, with their ho-hum helipads and snooze-inducing jacuzzis, consider the 928-foot-long M7, designed by the Austrian company, Migaloo Private Submersible Yachts.
If you're the helipad-on-a-sea-vessel type, the M7 not only has a place for your chopper to land, it has a swimming pool, VIP suites, multiple hangar bays, and a design inspired by the U.S. Navy's Zumwalt-class destroyers. (Alas, its engines are diesel-electric, not nuclear-powered.)
And unlike a yacht, which is just going to sit there on top of the water, floating around like a $200 million chunk of burnished driftwood, the M7 can dive to 1,500 feet and cruise underwater at 20 knots. The real excitement, as Sebastian the Crab once sang, is "under the sea."
Life may be better down where it's wetter, but the M7 will cost you. There's no precise price tag yet, says Christian Gumpold, chief executive officer of Migaloo. But the $2.3 billion figure mentioned in this report is close. "This would make it for sure to the most expensive private object worldwide," Gumpold told us via email.
The M7 is not the only submarine available to those rich enough to afford one. For a couple of decades, companies such as Triton Submarines, DeepFlight Adventures, U-Boat Worx BV, and Seamagine Hydrospace Corp. have been producing and selling "submersibles." These are smaller vehicles, capable of taking from two to eight passengers thousands of feet down to explore the ocean for hours at a time. OceanGate Inc., founded by the adventure-loving entrepreneur Stockton Rush, is planning to take passengers to the remains of the Titanic in 2018.
Submersibles can't, however, regenerate their own power, and they rely on yachts or other vessels for long-distance transport and servicing. They're pretty awesome, but they're more James Cameron, less James Bond.
Full-on, luxurious, yacht-style submarines are a more recent development. Three companies—Migaloo, the Florida-based U.S. Submarines Inc., and Ocean Submarine in the Netherlands—produce sub designs that aspiring Bond villains dream of: capable of traveling 1,000 miles or more, luxuriously appointed, and the kind of underwater headquarters from which you can plot world domination, or maybe just host friends for a week of exploration.
As you might expect, private submarines are phenomenally expensive. U.S. Submarines' Nomad 1000—which seats 10 to 24, has a range of 1,000 nautical miles, and can dive to 1,000 feet—begins at $6.5 million. Its top-of-the-line, 213-foot-long Phoenix 1000, which has more than 5,000 square feet of interior, is estimated to cost $90 million.
So while dozens of private submersibles are bobbing around the deep, there are currently no private luxury subs in existence. For all the renderings zipping around the Internet, subs such as the M7 and the Phoenix 1000 remain (mostly) theoretical.
"We're not building anything right now," said L. Bruce Jones, the founder and CEO of U.S. Submarines, adding that his company, which is affiliated with Triton, is focusing on submersibles "because that's where the market is."
"It seems like a massively expensive engineering exercise—and an unproven one—in the recreational sector," said Stewart Campbell, editor of Boat International . "Yachting is often a volume game—how much space can you pack into your hull and superstructure? There's a cost-per-gross-tonne calculation that the superyacht world understands. I imagine with one of these big submersibles, that equation goes out the window. You're not getting much volume for the money, and the equivalent yacht will give you more of everything."
It's also possible that safety concerns hinder potential buyers, though all sub makers adhere to safety standards issued by organizations such as the American Bureau of Shipping and the Norwegian DNV GL, as well as the U.S. Navy's Subsafe specifications. They all also claim perfect records, with about 1 million passengers per year going on dives as tourists.
Of the three manufacturers, only Ocean Submarine (which supplies subs to the military) is under contract to complete a civilian vessel, for what CEO Martin van Eijk calls "a very rich client." Set to be delivered in 2018, the 64-foot Neyk L3 can seat up to 20 passengers, depending on the configuration, with a bar, galley, and library. (Van Eijk did not know which books will go into the library.)
The L3 may be smaller than Migaloo's offerings, but its size offers some advantages. The company's idea of luxury is, according to its brochures, about "more than Connolly leather." As with, say, a Lamborghini, this is about comfort and control: Vertical thrusters let the L3 remain in one place, despite ocean currents; landing gear allows the sub to pull up on beaches (no marina necessary); and the ride is quiet and precise, with a range of 500 to 1,500 nautical miles. Plus, it's only 20 million euros ($23.8 million), practically a bargain. (Buy two!)
Learning to pilot these subs—or rather, training a crew to pilot them—is essential. In the U.S., pilots need to have a master's license, but there's more to it than that. "When a submarine is on the surface, it's the same like another ship," van Eijk said. "But when you go down under, you need some rules to understand."
Ocean Submarines, he said, has a German training center, with the same simulator as airplanes. "We can do the same interior as the cockpits, so the client can see how exactly the submarine will work," he said. The training typically takes four months.
Once you've got your sub and your trained crew, you can go wherever you like, the manufacturers told me. There are no specific legal restrictions on civilian subs anywhere in the world. Which is not to say coast guards won't take note of your presence.
"When you bring a submersible into someone else's territorial waters, not everybody is as enthusiastic about allowing you to go diving," said Patrick Lahey, the founder and president of Triton Submarines. "The areas that people seem to be most concerned about submersibles being used are Greece and France, because they have antiquities on the bottom and they're concerned that a person that owns a submersible might be going down and taking things that might be an important part of history." (Mechanical grabbing arms and diver lock-out chambers are popular add-ons for most subs.)
There is a way to assuage concerns, Lahey said. "Involve the local authorities in what you're doing, both to assure them you're not there to plunder their antiquities but to give them an opportunity to dive in their own waters and to see things maybe they've never seen themselves."
If that doesn't work, you could always invite them for a dip in one of your jacuzzis, or a midnight screening of the new Star Wars movie at your sub's open-air cinema. And if the paparazzi show up to spy, you can do what mere superyacht owners never can: Dive.
| reasonable yacht submarines | actually built | the real thing | been there done that | not only computer graphics |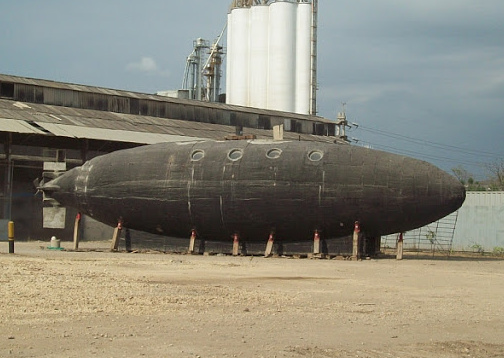 | Submarine Yacht | Cartagena Colombia | advanced cement composite technology | nautilusmaker® | room and space equivalent of a 68 square meter apartment | cost USD 55 K |
Everybody can be part of our ventures now… | token list |